Chinese restaurant in Chicago offers Zongzi to mark Dragon Boat Festival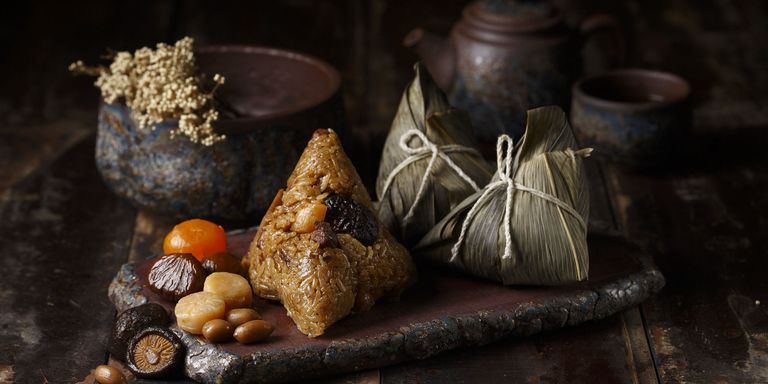 Lao Sze Chuan, the most recognized Chinese restaurant located on the Magnificent Mile in downtown Chicago, offered Zongzi, a kind of rice dumpling on Sunday to mark traditional Chinese Dragon Boat Festival.
The restaurant offered Zongzi in two tastes: the bigger ones have yolk and pork wrapped in with glutinous rice; while the smaller ones are sweet with dates and beans. In less than three hours, diners in the restaurant consumed more than 80 bigger Zongzi and more than 200 smaller ones.
The restaurant also invited some diners to make Zongzi by themselves with the help of Chinese gourmets.
With two bamboo leaves in hand, it takes a while for William Hennessy to learn how to fold them into a cone where glutinous rice and other fillings can be stuffed without leakage. Tying up in the final stage also took him some time, as the Zongzi he made frequently came loose.
William tasted Zongzi before and participated in dragon boat race in 2017. "It's good to learn about the (Chinese) culture," he said.
Richard Hennessy, the father of William, believes the Zongzi he made was the best. "It's a great fun. Now we can go home and practice some more."
Frank from Germany is visiting Chicago. He ordered a bigger Zongzi to share with his friend. "It's my first time trying this. it's really good. I was actually quite surprised."
Frank admitted that he didn't know Zongzi was made of pork and peanut and sticky rice that's wrapped in bamboo leaves. "It's really good combination of flavors, I really enjoyed it… It's worth a shot," he said.
This is the first time for Lao Sze China to offer Zongzi to customers. "Chinese Americans in Chicago have marked the Dragon Boat Festival every year for years by launching Dragon Boat Race. This year, I want to tell Chinese story through Chinese food, and there is the event of Zongzi wrapping," said Tony Hu, president of Tony Gourmet Group.
More and more Americans have been to China. They are interested in China but have little knowledge of Chinese culture. "Chinese food is the easiest way for them to know China, and cut shot their distance with Chinese people," Hu said.
Hu plans to make the event an annual one.
On every fifth of May on Lunar Calendar, Chinese will eat Zongzi to commemorate the death of Qu Yuan (340-278 BC), a famous Chinese poet as well as a patriotic living during the Warring States period (5th Century BC-221 BC).